xCORE Array Microphone
Kit: XK-USB-MIC-UF216
Silicon: XU216-512-TQ128
Downloads: software and documents
The xCORE Array Microphone features 7 MEMS microphones with PDM (Pulse Density Modulation) output connected to our XUF216-512 xCORE-200 multicore microcontroller.
The xCORE Array Microphone provides an ideal platform for a range of multichannel microphone aggregation products.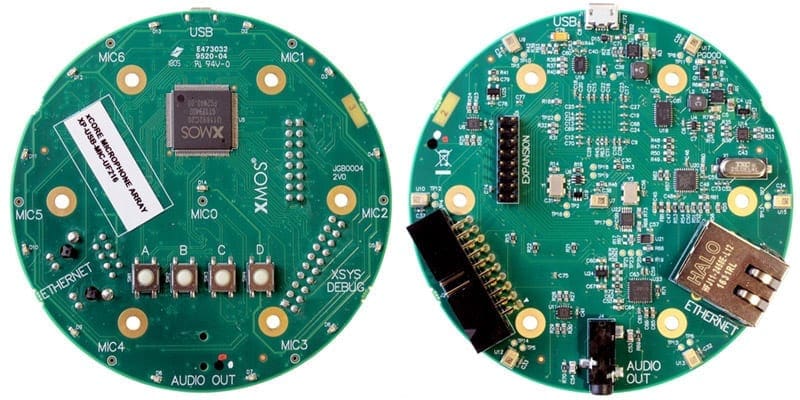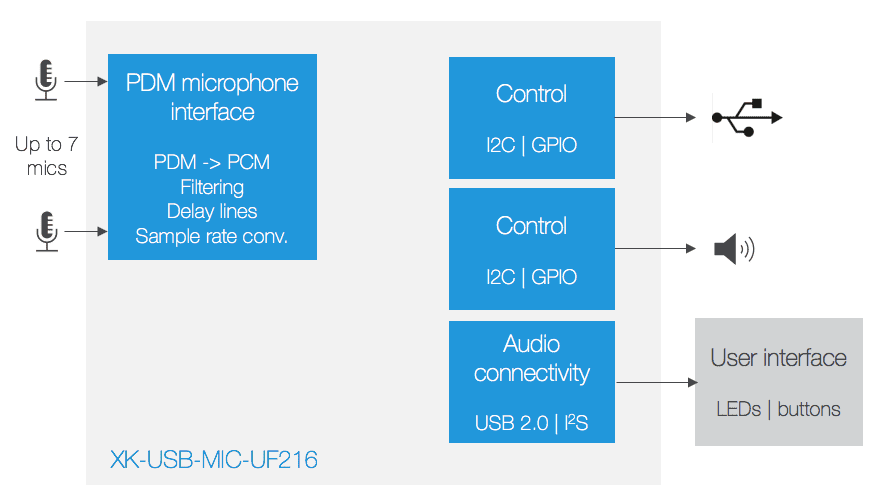 xCORE Microphone Array board
xCORE-200 XU216 multicore microcontroller
USB Audio Class 2.0 compliant device, backwards compatible to UAC 1.0
Voice capture: x7 PDM MEMS microphones (IM69D130)
Audio out: 3.5mm headphone jack
User interface: 4 buttons and 13 LEDs
xSYS connector for JTAG debug
Array microphone interface library
PDM to PCM format conversion
Four channel decimator
Programmable output sample rate

8, 12, 16, 24 or 48kHz
7.35, 11.025, 14.7, 22.05 or 44.1 kHz

Up to 100dB dynamic range
Microphone gain compensation
Optional delay line per microphone
USB Audio Driver Support: See USB Audio Driver Support for detailed information.
The hardware and software listed on this page may be subject to a license agreement – see License Agreements.