A fast and economical platform for the intelligent IoT, which delivers on flexibility without sacrificing performance. Enjoy high performance AI, DSP, I/O and control in a single device.
OVERVIEW
With its unique multi-threaded micro-architecture, xcore.ai provides low latency with highly deterministic performance, ideal for intelligent IoT applications. Each xcore.ai features 16 logical cores split between 2 multi-threaded processor 'tiles'. Each tile is equipped with 512kB of SRAM and a vector unit providing integer and floating point ALUs. A powerful interprocessor communication infrastructure provides high speed communication between each integrated processor, and multiple xcore.ai SoCs, for ultimate scalability. All this, within a single, homogeneous, and powerful development environment.
WHITEPAPER AND REPORTS
APPLICATIONS
Architected to deliver high processing and low eBOM. Easy to use, cost effective and scalable. It's designed for smart, connected products across multiple applications.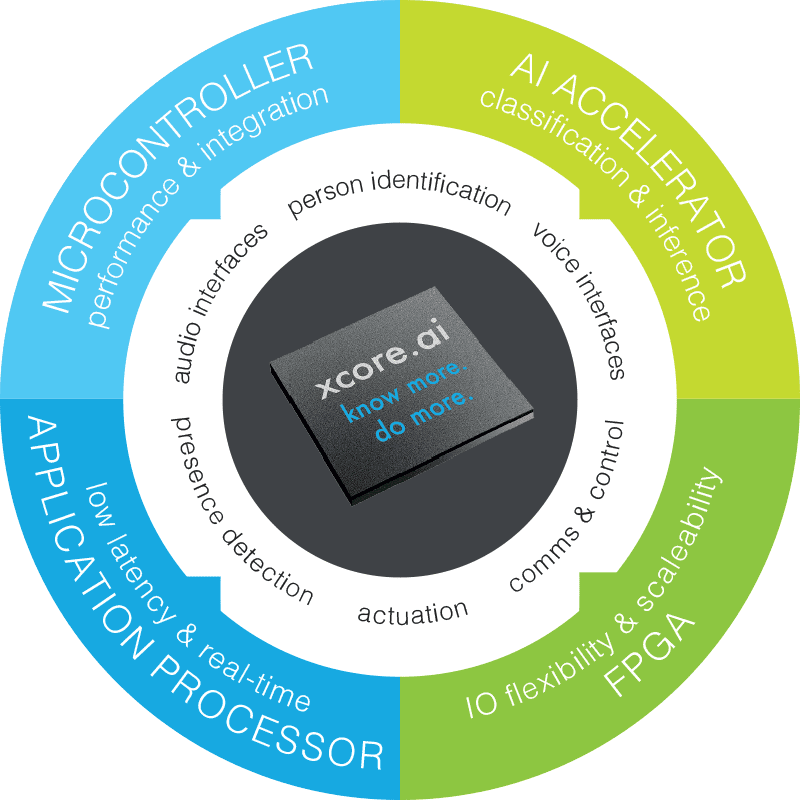 FEATURE HIGHLIGHTS
Software-Defined IO
Deterministic processing performance
Precise ns timing accuracy
Providing fully programmable application specific interfaces
Embedded PHYs for MIPI, USB and LPDDR
Control Processing
SMP FreeRTOS across multiple threads
C/C++ code development environment for control code integration
Up to 3200 MIPS of performance available on the 800MHz package options
Flexibility
Software-defined partitioning of xcore.ai threads provide optimal configuration of IO, control, DSP and AI/ML that perfectly matches the specific requirements of each target application. Scaling of the tile clock frequency to meet exact performance requirements reduces power consumption providing cost and power effective intelligent IoT solutions.
DSP Performance
32-bit floating-point scalar pipeline offering up to 1600 MFLOPS of performance at 800MHz
256-bit VPU adds block floating point capabilities up to 12.8 GMACS of performance at 800MHz
Integrated complex arithmetic and FFT/iFFT support at up to 1 million 256-point FFT/s
AI / ML Performance
256-bit VPU supports 32-bit, 16-bit, 8-bit and binary vector operations
Peak AI performance of 51.2GMACC/s at 8-bit with a sustained performance of 40.96GMACC/s at 800MHz
Homogeneous computing environment for tight integration of AI operators
LET'S GET STARTED
Getting started on xcore.ai is easy! Try one of our ready-made solutions, or build your own.
BUY
Part Number
Package
MIPS
Logical Cores
Internal RAM
OTP memory
Temperature
IO voltage
IO
USB PHY
MIPI
External Memory
Buy
XU316-1024-QF60A-C24​
DATASHEET
60pin QFN (7x7mm)​
2400
16
2 x 512KB
2 x 4KB
Commercial​
1v8​
34
1
No​
No​
DIGIKEY
FUTURE
XU316-1024-QF60B-C24​
DATASHEET
60pin QFN (7x7mm)​
2400
16
2 x 512KB
2 x 4KB
Commercial​
3v3​
34
1
No​
No​
DIGIKEY
FUTURE
XU316-1024-FB265-C24​
DATASHEET
265pin FBGA (14x14mm)​
2400
16
2 x 512KB
2 x 4KB
Commercial​
1V8 / 3V3​
128
1
Single or Dual lane MIPI D-PHY receiver​
LPDDR1
DIGIKEY
FUTURE
XU316-1024-QF60A-C32
DATASHEET
60pin QFN (7x7mm)
3200
16
2 x 512KB
2 x 4KB
Commercial
1v8
34
1
No
No
DIGIKEY
FUTURE
XU316-1024-QF60B-C32
DATASHEET
60pin QFN (7x7mm)
3200
16
2 x 512KB
2 x 4KB
Commercial
3v3
34
1
No
No
DIGIKEY
FUTURE
XU316-1024-FB265-C32
DATASHEET
265pin FBGA (14x14mm)
3200
16
2 x 512KB
2 x 4KB
Commercial​
1V8 / 3V3
128
1
Single or Dual lane MIPI D-PHY receiver
LPDDR1
DIGIKEY
FUTURE
XU316-1024-QF60A-I24​
DATASHEET
60pin QFN (7x7mm)​
2400
16
2 x 512KB
2 x 4KB
Industrial​
1v8​
34
1
No​
No​
DIGIKEY
FUTURE
XU316-1024-QF60B-I24​
DATASHEET
60pin QFN (7x7mm)​
2400
16
2 x 512KB
2 x 4KB
Industrial​
3v3​
34
1
No​
No​
DIGIKEY
FUTURE
XU316-1024-FB265-I24​
DATASHEET
265pin FBGA (14x14mm)​
2400
16
2 x 512KB
2 x 4KB
Industrial​
1V8 / 3V3​
128
1
Single or Dual lane MIPI D-PHY receiver​
LPDDR1
DIGIKEY
FUTURE
XU316-1024-QF60A-I32
DATASHEET
60pin QFN (7x7mm)
3200
16
2 x 512KB
2 x 4KB
Industrial
1v8
34
1
No
No
DIGIKEY
FUTURE
XU316-1024-QF60B-I32
DATASHEET
60pin QFN (7x7mm)
3200
16
2 x 512KB
2 x 4KB
Industrial
3v3
34
1
No
No
DIGIKEY
FUTURE
XU316-1024-FB265-I32
DATASHEET
265pin FBGA (14x14mm)
3200
16
2 x 512KB
2 x 4KB
Industrial​
1V8 / 3V3
128
1
Single or Dual lane MIPI D-PHY receiver
LPDDR1
DIGIKEY
FUTURE
XU316-1024-TQ128-C24
DATASHEET
128pin TQFP (14x14mm)
2400
16
2 x 512KB
2 x 4KB
Commercial
1V8 / 3V3
78
1
Single or Dual lane MIPI D-PHY receiver
No
DIGIKEY

XU316-1024-TQ128-I24
DATASHEET
128pin TQFP (14x14mm)
2400
16
2 x 512KB
2 x 4KB
Industrial
1V8 / 3V3
78
1
Single or Dual lane MIPI D-PHY receiver
No
DIGIKEY