xCORE-200 explorer kit
Kit: XK-EVK-XE216
Silicon: XE216-512-TQ128
Downloads: software and documents
The xCORE-200 eXplorerKIT features a 3D accelerometer, a 3-axis gyroscope and six servo interfaces for rapid prototyping of motor and motion control projects. This coupled with a combination of 100/1000 Mbps Ethernet, high speed USB and 53 high performance GPIO make it ideal for a wide range of products, ranging from robotics and motion control to time sensitive networking and digital audio.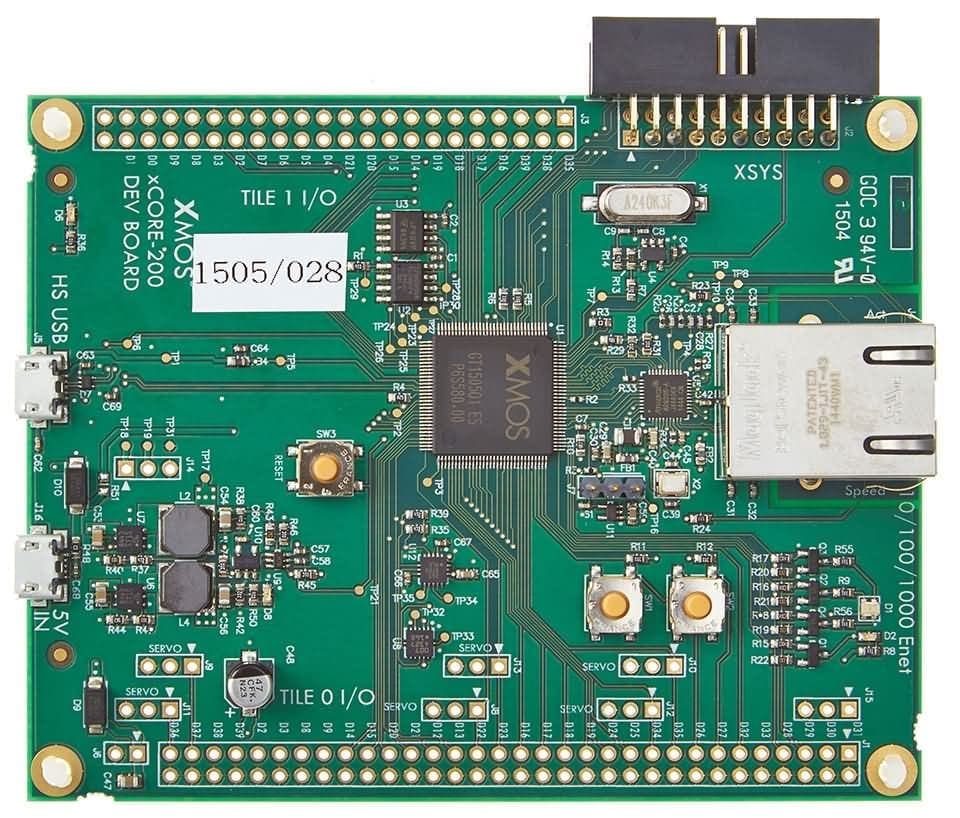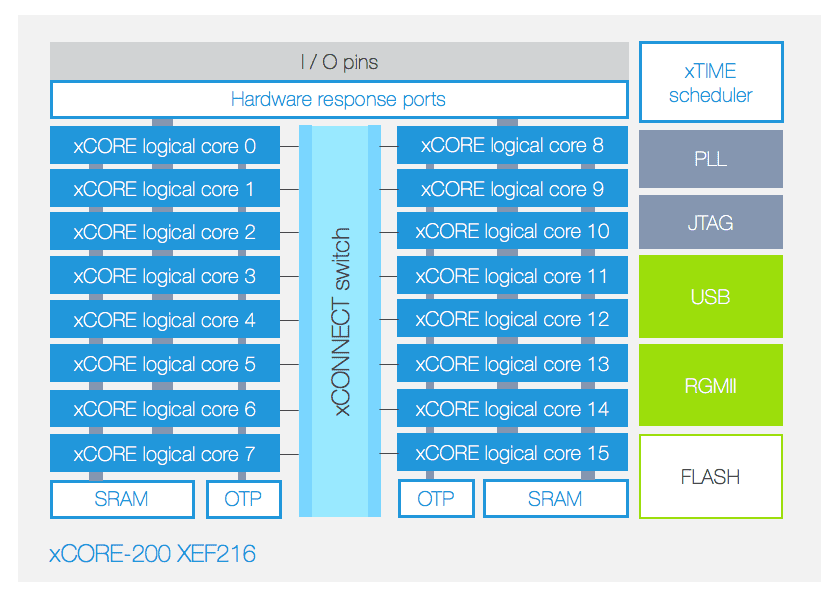 xCORE-200 explorerKIT board
16 logical cores, up to 2000MIPS 512KB SRAM
High speed USB interface
10/100/1000 Mbps Ethernet interface
53 high speed GPIO
3D Accelerometer and magnetometer
Six servo interfaces
Powered from USB micro-B connectors
Includes xTAG debug adaptor
xCORE-200 sliceKIT
Kit: XK-SK-X200-ST
Silicon: XE216-512-FB236
Downloads: software and documents
The xCORE-200 sliceKIT delivers the deterministic, responsive processing required to handle a variety of peripheral interfaces, data processing and control tasks. The kit includes Gigabit Ethernet, UART and I2C communications and I/O interfacing. These capabilities can be developed with our library of sliceKIT I/O boards.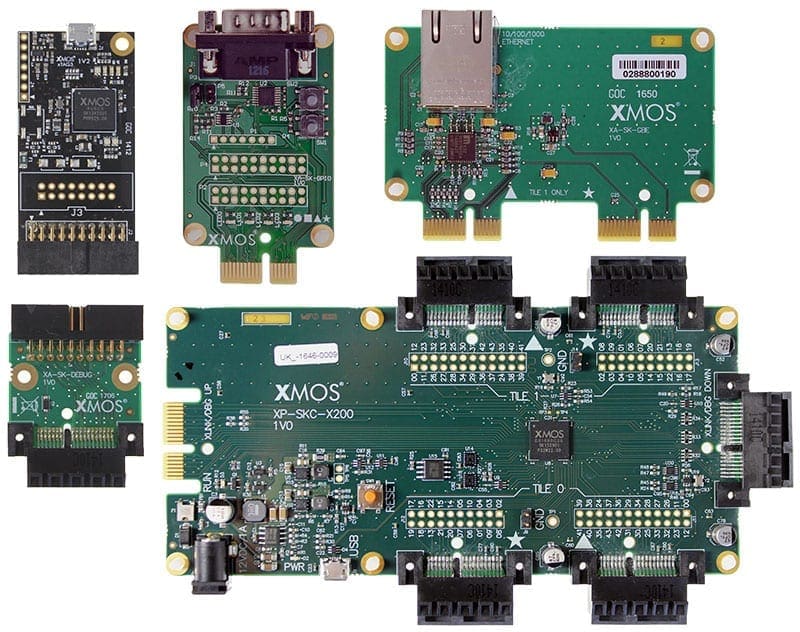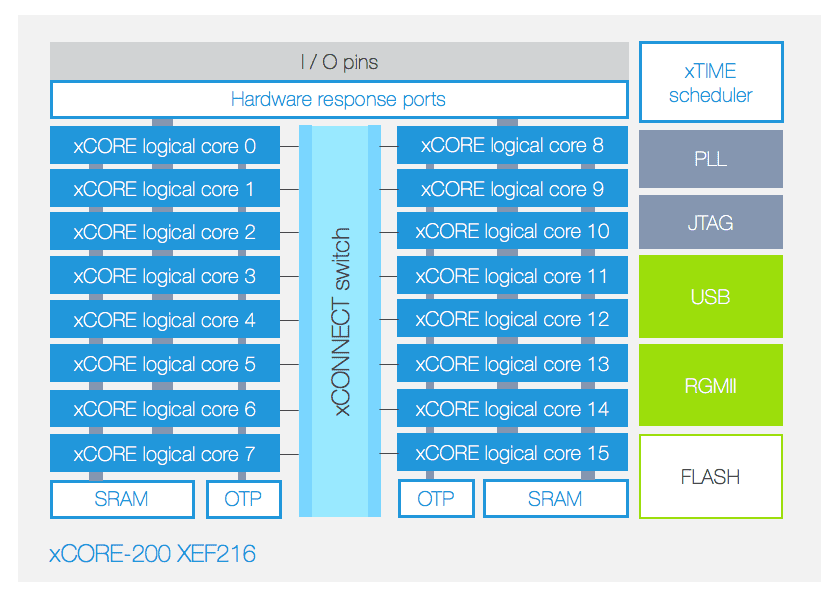 xCORE-200 sliceKIT core board
XE216-512-FB236 device
16 logical cores, 512KB SRAM, up to 2000MIPS
Flexible core board supporting up to four digital I/O slots for sliceCARDs
Gigabit Ethernet sliceCARD for 1000Mb applications; also compatible with existing 10/100Mbps Ethernet slice (XA-SK-E100)
GPIO sliceCARD
xTAG debug adaptor
Compatible sliceCARDS
Audio | XA-SK-AUDIO
Ethernet | XA-SK-E100
GPIO | XA-SK-GPIO
IS-BUS | XA-SK-ISBUS
MultiUART | XA-SK-UART-8
Slicecards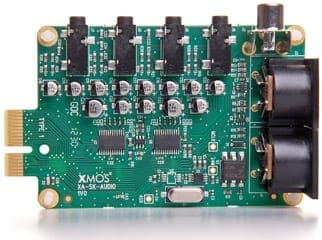 Audio slicecard
4 in/4 out audio channels
I2S interface to audio codecs and 3.5mm jacks
sample rates up to 192kHz
SPDIF output; MIDI in / out connectors
Part #: XA-SK-AUDIO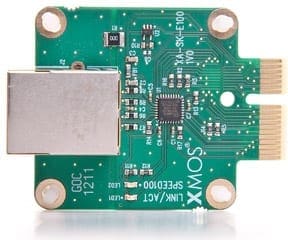 Ethernet slicecard
10/100 Ethernet PHY
RJ45 connector and MII interface
Part #: XA-SK-E100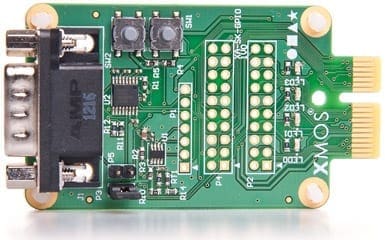 GPIO slicecard
4 LEDs, 2 push buttons
RS232 connector with 4-channel ADC
Part #: XA-SK-GPIO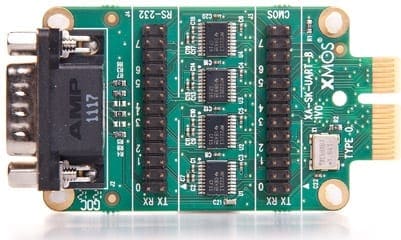 MultiUART slicecard
8 x 115.2 Kbaud full duplex UARTs
Connected to two 8-bit ports
Part #: XA-SK-UART-8
Debug adapters
xTAG
Kit: XA-XTAG3
Silicon: XE216-512-FB236
Downloads: software and documents
Converts between an XMOS XSYS connector and USB 2.0
Providing pins for JTAG control, system reset, processor debug
One duplex UART link; one duplex serial XMOS Link
Part #: XA-XTAG2, XA-XTAG3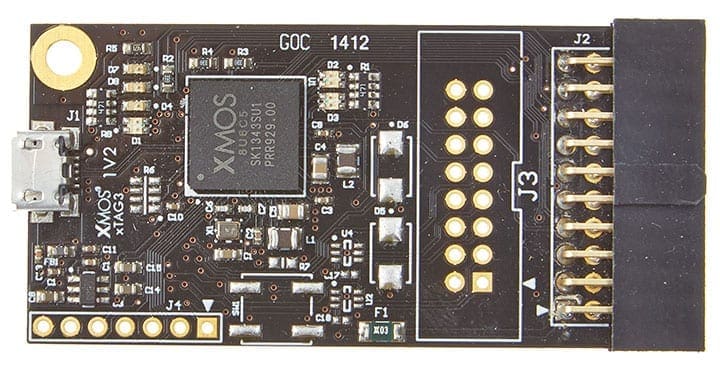 The hardware and software listed on this page may be subject to a license agreement – see License Agreements.