xTIMEcomposer Studio Download

The latest version of xTIMEcomposer Community is free to download for all registered users.
xTIMEcomposer Enterprise License
If you require an enterprise grade development environment with secure one-to-one ticketed online support, we recommend that you purchase an xTIMEcomposer Enterprise annual subscription-license.
---

Browse our xSOFTip library, configure the xSOFTip blocks, estimate your xCORE resource requirements, recommended xCORE multicore microcontrollers, no registration required.
Version: 13.2.1
Microsoft Windows
XP SP3 (32-Bit requires 32-bit JRE)
Vista SP2 (32/64-Bit requires 32-bit JRE)
Win7 SP1 (32/64-Bit requires 32-bit JRE)
Win8 (32/64-Bit requires 32-bit JRE)
---
Apple Mac
OSX 10.6 (Intel)
OSX 10.7 (Intel)
OSX 10.8 (Intel)
OSX 10.9 (Intel)
---
Linux 32-bit
Centos 5.8 (64-Bit requires 64-bit JRE)
Ubuntu 12.04 LTS (64-Bit requires 64-bit JRE)
---
Linux 64-bit
Centos 5.8 (64-Bit requires 64-bit JRE)
Ubuntu 12.04 LTS (64-Bit requires 64-bit JRE)
NEED HELP OR SUPPORT
The Q&A section of our community website (XCore Exchange) contains answers to the most common questions related to XMOS technology. This is the fastest way to get answers, from experienced xCORE developers.

---
xTIMEcomposer documentation
---
xTIMEcomposer tutorials
The video below shows many basic tasks, such as importing a project for the startKIT board, building and running a project, and outputting data using xSCOPE.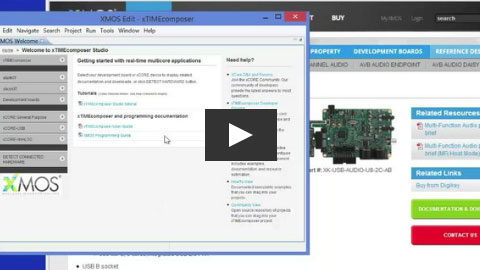 xTIMEcomposer Studio includes many additional interactive tutorials that show how to use the different tools. Select Help>Tutorials in xTIMEcomposer Studio.
If you are not familiar with the Eclipse IDE there are many excellent tutorials online including a range of video tutorials at Eclipse Resources.
---
Need help?
XCore Q&A and Forums
Join the xCORE Community. Our commmunity of developers provide the latest answers to most questions.
To report a bug or request general information on XMOS products, please use the correct CONTACT form.
xTIMEcomposer Developer Column
Integrated view of the xmos.com site that allows you to browse and download software and documentation from inside xTIMEcomposer Studio.
xTIMEcomposer xSOFTip Explorer View
An xTIMEcomposer Studio perspective that lets you browse and configure all our xSOFTip. Each component includes examples, documentation and resource estimation.
xTIMEcomposer HowTo View
Documented executable examples of the most common tasks that you can drag into your projects.
xTIMEcomposer Community View
Open source repository of projects that you can drag into your xTIMEcomposer Studio project.
---
---
xTIMEcomposer - Java Requirements
To use xTIMEcomposer Studio you must have a Java Runtime Environment (JRE) version 1.5 or later installed, which can be downloaded from: http://java.sun.com/javase/downloads
---
xTIMEcomposer - Previous versions
Some versions of XMOS reference designs may require earlier versions of xTIMEcomposer. They can be downloaded with related documentation from the xTIMEcomposer Archive page.
---
xTIMEcomposer - Source code
The source for xTIMEcomposer tools developed under Open Source License Agreements is available from the xTIMEcomposer Tools Source page.