Blog: Page 7
Posted: 10 November 2014
By:
XMOS recently attended the 2014 IEEE-SA Ethernet & IP @ Automotive Technology Day in Detroit. The event is in its fourth annual edition and was held for the first time in the US, after previous events were held in Germany. It was also the first time the event was organized through the IEEE Standards Association, a sign of the growing applicability and maturity of Ethernet as a technology in the automotive industry.
The theme of the event was "Moving towards a mature and pervasive automotive network: from infotainment to autonomous driving, how Ethernet is uniquely qualified to transform the vehicle". The two-day conference program showcased a number of themes, including the status of IEEE standardization efforts and physical layer developments that will enable an automotive Gigabit Ethernet network. New applications and use cases of the technology, security aspects, and testing methods and tools were also presented.
I co-presented on "AVB in Automotive Infotainment Networks" alongside Günter Dannhäuser from Daimler. The presentation focused on work that we have been doing with Daimler to reduce the startup time of XMOS AVB endpoints to meet a number of use-cases in automotive. Through a combination of hardware and firmware optimization, we presented a reduction from 7 seconds to just over 500ms from cold boot to first audio output.
You can see our presentation slides here.
A new aspect of the 2014 event was a joint session with the 7th AUTOSAR Open Conference where the software aspects and the Ethernet integration into the AUTOSAR software platform were presented and discussed. Marc Weber from Vector Informatik presented a roadmap to integrate AVB driver capability in a future version of AUTOSAR.
The event was a unique opportunity for OEMs, suppliers, semiconductor vendors and tool providers to come together. In parallel with the conference, XMOS exhibited alongside forty other companies, which allowed participants to experience the technology and directly interact with vendors. We showed XMOS AVB Daisy Chain endpoints, streaming audio to and from an Apple Mac, via a single twisted pair using Broadcom BroadR-Reach PHYs. A number of other vendors were showing XMOS endpoints interoperating with their equipment.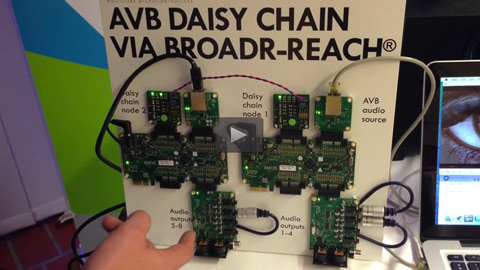 With the recent innovations in vehicle electronics in the Infotainment, Active Safety, Powertrain and Body domains, there is greater need than ever for a new generation of network that can scale with the bandwidth, time synchronization and quality-of-service needs of endpoints. There was consensus at the event that Ethernet and AVB/TSN meets these needs and will be prevalent in cars in the coming years.
continue reading...