Blog: Page 7
Posted: 26 November 2014
By:
This was my first time at electronica... it is a large show, to say the least! That said, once you're in the right area, there are many relevant stands conveniently placed close by. That area for me, and the rest of the XMOS team, was on our distributor's stands Macnica and Topas. Some of the notable discussions we had related to AVB and its adoption in automotive networks. This was a common theme with many other stands presenting information on Automotive Networking. In addition to the automotive applications, I also found out about a really interesting AVB application, implemented using XMOS, involving a network with hundreds of endpoints. Watch this space for more details!
On the Thursday of the show, Elektor Magazine had invited us to present a couple of workshops on multicore theory, applications and programming. This was a great opportunity to get people involved with XMOS hardware and show how to solve real-time applications.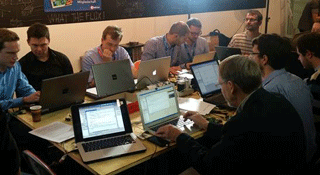 The aim of the workshop, after the initial introduction to the architecture, was to create a servo motor server with the angular position of the motor controlled by a capsense slider on an XMOS startKIT. For those eager for the challenge, there was also an extended task (for homework!), to connect two startKITs/servo motor servers using CAN bus and synchronize the positions.
This was actually quite easy and within an hour there were motors zipping backwards and forwards as the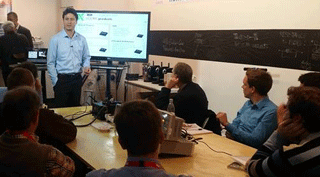 capSense slider was swiped. The startKIT is a great platform for this type of development. The peripheral hardware support is supplied as an easy to use source code library allowing fast implementation, and there is plenty of GPIO accessible on the header to connect additional peripherals.
Hopefully, the attendees learnt some of unique benefits of multicore architectures in solving real-time embedded problems and enjoyed the hands-on exercises.
Many Thanks to the Elektor team for the invitation and hospitality during the workshops.
continue reading...