How voice user interfaces will feature in CES 2018
Posted: 21 December 2017
The recent rise of the smart speaker has been exceptional, and all signs suggest the dominance of Amazon's Alexa and to a lesser extent Google Home is set to continue at CES 2018. Looking at the increase in searches made for these devices (see graph below) we can see how demand has grown and that we're now at a point where there is exceptional competition between the major players. And this is before Apple's HomePod, which starts shipping early next year, joins the fray.
Three years ago we were already at the point where 55% of teens and 41% of adults use voice search more than once per day on their mobile phones (source Google Survey). The rise of the Echo and Google Home has only increased this.
The work that we've been doing with Amazon Alexa Voice Service (our VocalFusion 4-mic technology is the first - and currently only - linear far-field mic array qualified by Amazon for the Alexa Voice Service) and other Tier 1 partners worldwide suggests that these devices are just the tip of the iceberg. We firmly believe that while there will be a plethora of similar devices, the real and very considerable growth is going to come from innovation, not replication.

Moving to the edge of the room
2018 will see voice technology integrated into a greater range of systems than just smart speakers. This is partly a natural step as AI chips and edge computing improve; but also as a consequence of the need to integrate these into multiple rooms, and locate them in positions where they can be used, regardless of where the voice user interface is and the direction they're facing.
Take a closer look at almost any advert for a smart speaker, from any vendor, and more than likely you won't see a power cable, and it will be positioned in the centre of a room - a coffee table, or a kitchen counter, far away from a power socket.
By integrating smart far-field voice user interfaces into multiple wall-mounted and edge-of-room systems, the technology can be more easily brought into the home, and added to products we already use. Will we see a smart dishwasher or washing machine with a voice UI? Probably not yet, but there is already a smart thermostat with built-in Alexa Voice Service, the ecobee4. Will we see a voice enabled TV, soundbar or media streamer? Absolutely because the technology is now available to add voice interfaces to products with stereo output channels.
What you can expect to see from us at CES
During CES in January, XMOS will be demonstrating our latest voice interface technology. Our technology will also be in evidence on several partner stands on the show floor, for example the XMOS XVF3000 voice processor is used in both the Bocco robot on the Yukai Stand (64601 in "Creative Vision, Japan Tech".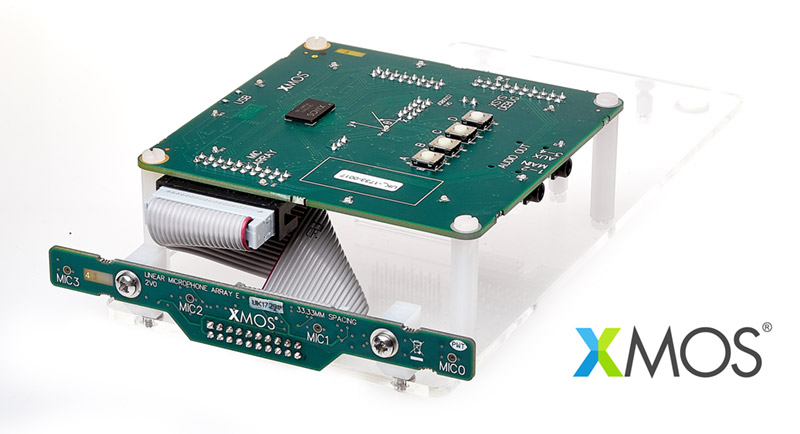 VocalFusion Stereo Evaluation Kit (XK-VF3500-L33),
with VocalFusion XVF3500 Voice Processor
We'll be showcasing our new VocalFusion stereo linear kit, the world's first stereo-AEC linear far-field voice kit for smart devices. This uses the new XVF3500 voice processor, which delivers 2-channel full duplex acoustic echo cancellation (AEC) - targeted at OEMs working in smart TVs soundbars, set-top boxes and digital media adaptors.
We'll also be showing our VocalFusion 4-Mic Kit for Amazon AVS along with the XVF3100-based VocalFusion Linear Kit, both designed for the edge of room segment for integration into smart panels, kitchen appliances and industrial equipment.
Looking forward, there'll also be demonstrations of our VocalSorcery advanced blind signal separation, which delivers voice capture from individual people within noisy environments like a café or car, and a joint proof of concept with Infineon that blends data from radar and microphones with XMOS voice capture technologies to deliver a more seamless human machine interface that enables greater context for the systems.
To arrange to meet the XMOS team visit xmos.com/news/events
Comment on this post via social media
« What magic will the Setem team bring to XMOS voice interfaces?
Choosing an Acoustic Echo Canceller for voice-enabled smart home products »