Customer Focus: Cambridge Audio
Posted: 04 August 2015
Welcome to our latest guest blog, where XMOS customers discuss their experiences of using xCORE multicore microcontrollers.

Joining us this time is Dominic Baker, Technical Director at Cambridge Audio.
For more than 40 years, UK-based Cambridge Audio has been at the forefront of hi-fi innovation, designing and building a range of award winning products for music lovers. Each product is designed to deliver the best performance and sound quality from a range of sources.
XMOS: How would describe Cambridge Audio's DNA?
Dominic: Simple really. Sound first. Music should always sound amazing. This philosophy drives all our product developments as we strive to create dynamic, powerful products that delight people who really love music.
Everyone at Cambridge Audio loves music, and this passion enables us to design innovative and sublimely engineered products that deliver an unparalleled sound.
XMOS: When did Cambridge Audio start using xCORE processors?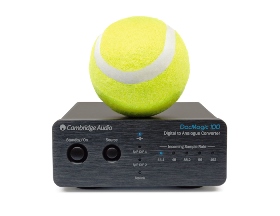 DacMagic 100
Dominic: Being a British based company we were one of the first audio equipment vendors to adopt XMOS' revolutionary technology. We first started using xCORE multicore microcontrollers in 2011 on our DacMagic Plus high performance DAC product, and very quickly realised that XMOS' USB solutions were far superior to other vendors offering a richer feature set and higher performance Asynchronous mode. Since then we've used xCORE processors across our rage of award-winning audio products including DacMagic 100 as well as our latest hi-fi separates 851N and CXN/CXA products. Of course it helps that they are British too!
XMOS: What is the benefit to Cambridge Audio using XMOS technology?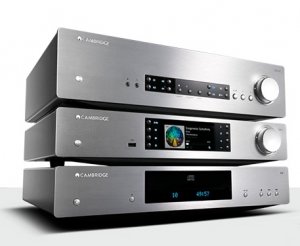 CX series
Dominic: At Cambridge Audio we believe nothing should come between the listener and the music. Our goal is to deliver bit-perfect audio whatever the source. Thanks to the inherent flexibility in XMOS' audio solutions, realising this goal is made easier and quicker.
XMOS delivers us the flexibility to support a range of audio formats and sample rates, from 32kHz/16-bit all the way up to 192kHz/24-bit and beyond. They also enable us to natively support both PCM and DSD files without any conversion or pre-processing. Not only does this simplify our design processes it also means that we can use xCORE processors in standalone mode, making it an ideal solution for a compact headphone amplifier such as the DacMagic XS.

DacMagic XS: Small but mighty
For my engineering team perhaps the biggest benefit that XMOS has provided is in simplifying our development flow. Now we have a single platform that can be used across the product range, our development cycles are shorter since we spend less time switching between the different design methodologies used by the various chip vendors.
XMOS: How would you sum up your experience of designing and developing products with XMOS?>
Dominic: Both Cambridge Audio and XMOS want to bring the listener as close to the music as possible, almost as if they are in the same room as the artist. This means developing products which deliver precise reproductions with astonishing clarity.
XMOS USB audio solutions based on xCORE multicore microcontrollers are fully programmable in 'C/C++' making it an easy task for our engineers to implement bit-perfect, asynchronous USB audio streaming and deliver innovative, award winning products that remain true to our philosophy of "sound first".
Find out more about Cambridge Audio and their products at http://www.cambridgeaudio.com/.
For more information on how XMOS makes audio sound better go to the High Resolution Audio page.
Comment on this post via social media
« Customer Focus: iFi Audio