Will 2016 be a landmark year for lossless hi-resolution streaming audio services?
Posted: 03 September 2016
With rumours of upgrades to the iPhone's audio capabilities set to be announced next week at the iPhone 7 launch, let's look at how this could affect the Hi-Res Audio sector.
It's fairly safe to say that the way we consume music has changed significantly over the last five years. The CD is clinging on, but if Google Trends (see graph below) is accurate this is mostly as Christmas presents. Vinyl has made a comeback among audiophiles. And streaming services have really taken off; Spotify alone receives a greater proportion of Google searches than CDs, overtaking it for the first time in March 2015 and staying ahead for all except the Christmas period.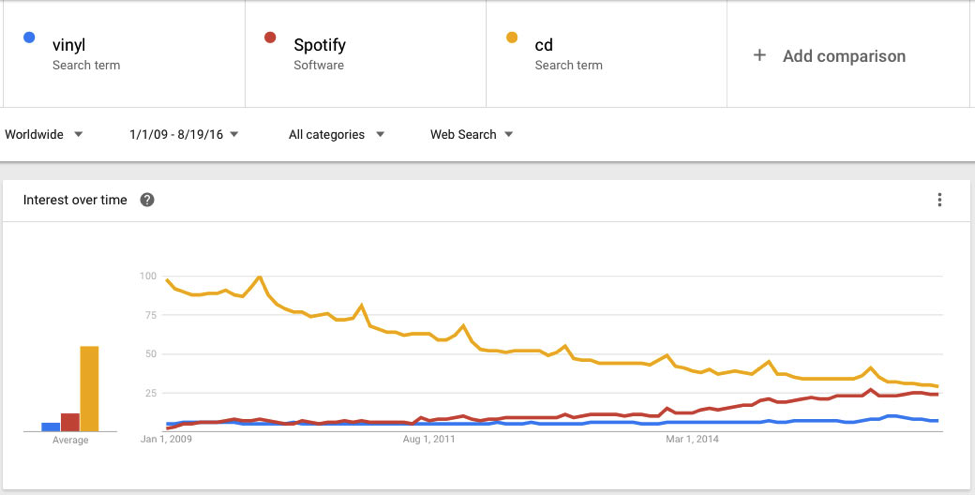 Figure 1: The fall and rise of audio formats CD (yellow), Spotify (red) and vinyl (blue).
And, at the end of last year, revenues from streaming overtook revenues of physical formats, hitting $1 billion for the first time.
But Spotify streams audio tracks at no more than 320 kbps (and often 96 / 160 kbps). While this is acceptable for many consumers who use mobile devices to consume music, it's poses a problem for many people who want to stream music into their homes and listen to high quality recordings. These people need a Hi-Res Audio quality audio stream.
Lossless or lossy codec?
Let's take a look at how easy is it to tell the difference between lossless codecs (typically operating at a minimum of 96 kHz at 24 bits, and ideally 192 kHz at 24 bits, which equates to 9,216 kbps if uncompressed) and the lossy (albeit high-bit-rate) of MP3s from Spotify.
For a large proportion of people telling the difference between lossless codecs and lossy (albeit high-bit-rate) MP3s is not as easy as you might expect. Like fine wine, some people (either through nature or nurture) simply cannot hear or find it hard to hear the distortions and errors that come with lossy formats such MP3, indeed only half can hear that extra layer of depth and the encoding errors that come with lossy formats.
One of the best blind tests on this topic comes from the Archimago audiophile blog - receiving results from 151 people via an online survey. It showed that half of all people tested found it hard (34%) or impossible (16.7%) to tell the difference between 320kbps and a lossless format when listening to three songs encoded in each format. But this means that half of the participants can (or at least say they can) tell the difference. And for these people that can discern between lossless and lossy audio, the desire to seek out high-res files and streaming services - which reproduce the full range of sound from recordings mastered from better-than-CD sources - is high.
Meridian Audio MQA
A key event for the future of Hi-Res Audio happened December 2015, when Meridian Audio announced availability of the MQA (Master Quality Authenticated) lossless codec, which delivers Hi-Res Audio at a bit-rate that can be streamed easily, by encoding several optimised versions in a single file; the output device can select the best option available depending on the device capabilities or the user's data connection - an essential feature for people streaming to their phones or homes. As TechRadar put it, MQA is about "brilliant quality tunes in tiny file sizes".
MQA is generating a lot of interest from hardware manufacturers, record labels and service providers, who all see potential benefits to their product lines. For example Pioneer and Onkyo both have players that already support the MQA codec. As for phones and tablets, LG, Sony, HTC and Samsung can already play hi-res FLAC files, and HTC has publicly demonstrated a prototype phone with MQA decoding.
The Warner Music Group was the first major record label to sign a deal with Meridian that will see the label offering music in MQA format, while some independent labels have already made their music available in the format.
And then there's the streaming service Tidal, which has also said that they will support MQA. This has led to speculation that a major technology company, in this case Apple, might look at acquiring Tidal for its hi-resolution audio capabilities. As Techradar put it:
"When reports emerged that Apple might be planning on buying streaming service Tidal many speculated that the deal was to do with acquiring the rights to Tidal's exclusives.
"Over the past year the streaming service has racked up an impressive roster of exclusive albums, from Beyonce's Lemonade to Kanye West's The Life of Pablo, and an acquisition by Apple would secure these exclusives for its own streaming service.
"But more interesting is Tidal's agreement with MQA to use its high-resolution music format."
Will iPhone 7 support Hi-Res Audio?
Speculation is rife about what new features will be announced next month at the iPhone 7 launch. Rumours include 4K screens and 1 GBps wireless standards, but one of the most credible is the removal of the headphone jack and, with it, a potential upgrade of the audio DAC.
Current iPhones can't handle hi-resolution audio, however an upgrade to the DAC would allow it to not only play the higher quality music, but also transmit that audio stream via AirPlay to Apple TV boxes and other devices around the home. The fact that Tim Cook has previously highlighted that the fifth generation Apple TV (likely to launch at roughly the same time as the iPhone 7) is set to be "something bigger", makes Hi-Res Audio support a credible rumour.
Conclusion
There is already a demand for hi-resolution audio, but as consumers stream more audio into their homes using devices like Bluetooth speakers as well as mobile phones that demand will increase. MQA means that these consumers do not need to make a compromise between the convenience of MP3 and the quality of lossless audio files - even over a phone's 3G connection.
The iPhone 7 launch may give us some indication of how important Apple sees Hi-Res Audio to their ambitions of providing the central hub in people's homes. I doubt they will launch support for Hi-Res Audio streaming immediately but there should at least be some indication within the hardware specifications or product announcements that Apple expect to enable it in future. Apple still have issues with Apple Music which was launched in June 2015, and would want to make sure that was working before they integrate another technology.
If Apple do live up to expectations and include an upgraded DAC in the new iPhone 7 to match that of Android rivals, and then also do go ahead with the rumoured acquisition of Tidal, they will be in a very strong position to dominate the Hi-Res Audio market.
Comment on this post via social media
« ReSpeaker: Modular hardware platform adds voice interfaces to any product you like
ISO 9001 Recertification Success »