xCORE Array Microphone Kit | XMOS
xCORE Array Microphone
Digital MEMS microphone array with PDM output
High speed USB2.0 compliant device
PDM-to-PCM conversion with programmable sample rate
XMOS provides a complete hardware and software solution for developers who want to integrate microphone aggregation into their products.
The xCORE Array Microphone provides audio capture from PDM microphones with high speed USB2.0 compliant device. This can be extended to include I2S capture and TDM control interfaces, as well as Ethernet support.
Each captured PDM input is converted into a PCM audio stream and transferred to the host PC or processor via USB Audio Class protocol. The system can be configured to generate PCM output at sample rates from 7.35kHz to 48kHz, making it simple to interface to a range of hosts including Applications Processors or standalone Digital Signal Processors.
Our PDM-to-USB software reference design provides the fastest way to market, or developers can integrate their own IP with the reference software and software libraries provided by XMOS.
BOARD FEATURES
Processor: xCORE-200 XUF216
Connectivity:

USB Audio Class 2.0 compliant device

Backwards compatible to UAC 1.0

Optional 10/100Mbps Ethernet

Voice capture: x7 PDM MEMS microphones
Audio out: 3.5mm headphone jack
User interface: 4 buttons and 13 LEDs
xSYS connector for JTAG debug
INTERFACE LIBRARY
PDM to PCM format conversion
Programmable output sample rate

8, 12, 16, 24 or 48kHz
7.35, 11.025, 14.7, 22.05 or 44.1 kHz

Up to 100dB dynamic range
Microphone gain compensation
Optional delay line per microphone

2.6us (384kHz resolution)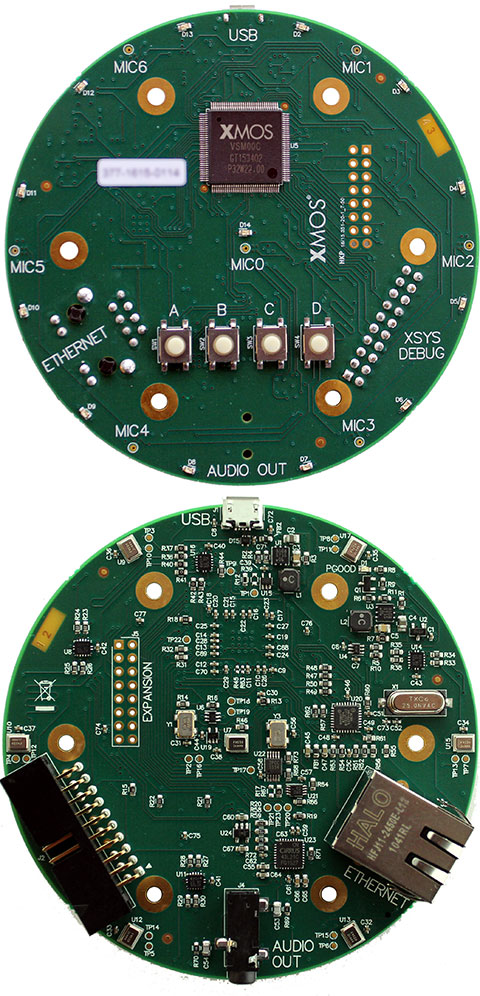 Why Choose xCORE Array Microphone Solutions?
XMOS array microphone solutions use the high performance multichannel capabilities of xCORE devices to aggregate PCM streams from large numbers of MEMS microphones to USB and TDM interfaces. The flexibility of xCORE means that independent streams of voice samples from arrays of PDM or I2S microphones can be easily backhauled to application processors, DSPs and PCs, in a single device.
Why XMOS?
Interfaces to large arrays of MEMS microphones - PDM or I2S
High quality format conversion, decimation and sample rate conversion
Independent streams of voice samples from microphone array
Standard control - USB or TDM
Additional GPIO for local HMI appliance controls
Cost reduction - microphone and backhaul interfaces in a single device
Customer adds own DSP to create differentiated product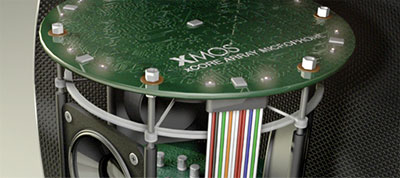 Discover the real-time DSP capabilities of the xCORE-200 platform in the context of voice interfaces.
Download our Real-Time Digital Signal Processing whitepaper
.