xCORE Multicore Microcontrollers
THE xCORE DIFFERENCE
---
select your exact interfaces & peripherals
guaranteed real-time performance
sub 10ns response time
Today's microcontroller market is crammed with me-too products. xCORE multicore microcontrollers take a different approach. When you design with xCORE, you get everything that you'd expect from a traditional microcontroller, such as a C-based design flow supported by a best-in-class development tool set and software libraries that implement common functions and many higher-level applications. The difference with xCORE is that our products are designed from the ground up to solve problems that are beyond traditional microcontrollers.
Multiple deterministic processor cores that can execute several tasks simultaneously and independently.
External interfaces and peripherals are implemented in software – you choose the exact combination of interfaces you need.
Perform static timing analysis and hardware-like simulations on your designs, using unique development tools that use the determinism of the architecture.
Test on real hardware and collect real-time data from a running application.
xCORE SILICON FAMILIES
xCORE devices are available as flexible voice capture specific processors or completely flexible multicore microcontrollers:


Our multicore microcontrollers, offering up to 32 logical cores and 4000MIPS processing power, with option for embedded flash. Ideal for hi-res consumer audio and complex multichannel professional audio applications, or platform developers.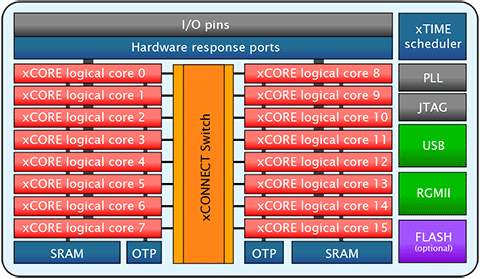 VocalFusion voice processors maximise the multichannel audio capabilities of xCORE devices, high quality integrated DSP and flexible I/O, to deliver high quality far-field voice capture solutions in a single device.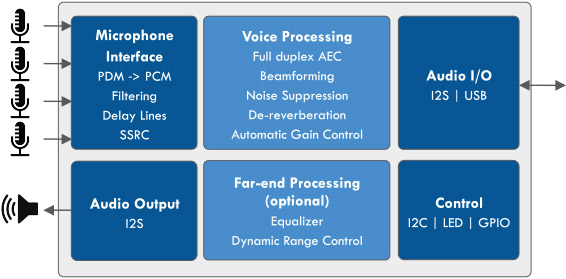 The xCORE Architecture Flyer details the unique features of the xCORE architecture,
and how it compares to traditional microcontrollers.
UNBEATABLE RESPONSIVENESS
---
Hardware-Response ports
100x more responsive
no interrupts, no caches
The unparalleled responsiveness of the xCORE Hardware Response I/O ports is rooted in some fundamental features:
Single cycle instruction execution
No interrupts
No cache
Multiple cores allow concurrent independent task execution
Hardware scheduler performs 'RTOS-like' functions
Communication between tiles managed by the hardware xCONNECT switch
I/O ports programmable to wait for any number of input events
Data can be serialized and deserialized, and input ports can discard any data until a condition is met. Input and output can be done at an exact number of clock ticks in the future, and input signals can be time-stamped to ensure real-time performance is maintained.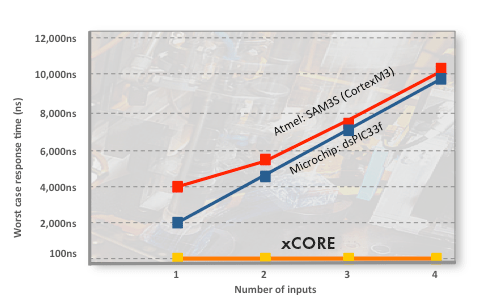 Read more about the xCORE responsiveness in the I/O response speed of microprocessors benchmark
DOWNLOAD I/O RESPONSE BENCHMARK