xCORE-VOICE Smart Microphone | XMOS
XVSM-2000 SMART MICROPHONE
xCORE-VOICE Interface processors with high-performance DSP and flexible I/O provide the ideal platform for smart microphones in far-field applications.
The xCORE-VOICE USB Smart Microphone (XVSM-2000) combines high performance microphone aggregation with advanced DSP technology and xCORE's industry leading control and connectivity.
The XVSM-2000 can be used stand-alone as a USB conferencing solution, or embedded with an Applications Processor to provide a high-integrity voice interface for applications such as voice controlled IoT devices. Offering advanced DSP capabilities including beamforming, acoustic echo cancellation and de-reverb ensure that voice sources can be delivered with the highest possible quality, guaranteeing the best user-experience. Audio output processing enables full-duplex communication, either with conference participants, or speech recognition systems.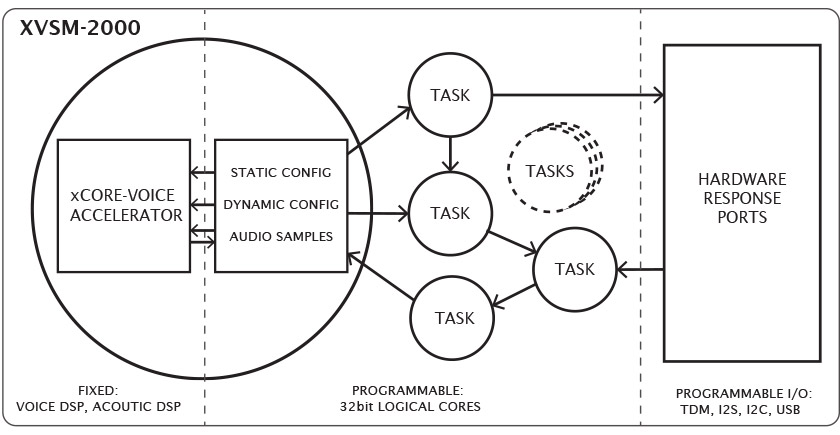 XVSM-2000 Task Diagram
xCORE-VOICE XVSM-2000 PROCESSOR
xCORE-VOICE XVSM-2000 processor

Programmable multicore microcontroller
Integrated microphone and voice DSP

Beamforming with configurable beam width and non-stationary noise suppression (up to 20dB attenuation)
Echo cancellation (up to 80dB att.)
Stationary noise suppression (up to 20dB att.)
De-reverb (up to 20dB att.)

Backhaul

High speed USB2.0 compliant device Multichannel USB Audio Class 2.0
Optional TDM (time division multiplexed) interface

Voice capture

Up to 16 element PDM microphone array
Up to 100dB SNR

Audio output options

I2S mono/stereo output
DSP options: compressor, limiter

System control options

Industry's most flexible GPIO
Extensive general purpose libraries
---
XVSM-2000 SAMPLE HOLDERS: SOFTWARE AND DOCUMENTATION
If you have received XVSM-2000 samples and require access to related software and documentation, log in to your MyXMOS account and click "Submit". Access will be given after we have verified your account details.