MULTICHANNEL AUDIO CONNECTIVITY
AUDIO CONNECTIVITY
---
Hi-Res USB Audio
Multichannel Audio
Networked Audio/AVB
XMOS delivers the ideal platform for the highest quality digital multi-channel audio for consumer, prosumer and networked products. The high performance and low-latency deterministic concurrent xCORE architecture ensures bit perfect transfer of 32bit audio data at 384kHz from one interface to another across many channels.
The flexible Hardware-Response ports allow complex timing-critical interfaces to be defined in software, including USB, AVB, I2C, TDM, S/PDIF, DSD and ADAT.
Need to add some DSP? The 32bit data path with full 64bit multiply-accumulate precision and single cycle instruction execution, together with a sample-by-sample pipeline approach to data processing, enables predictable low-latency audio DSP – ideal for live applications.
Software libraries of standard audio interfaces together with USB Audio 2.0 and TSN reference software components provide the fastest way to deliver products to market, using the audio connectivity to fit your product requirements.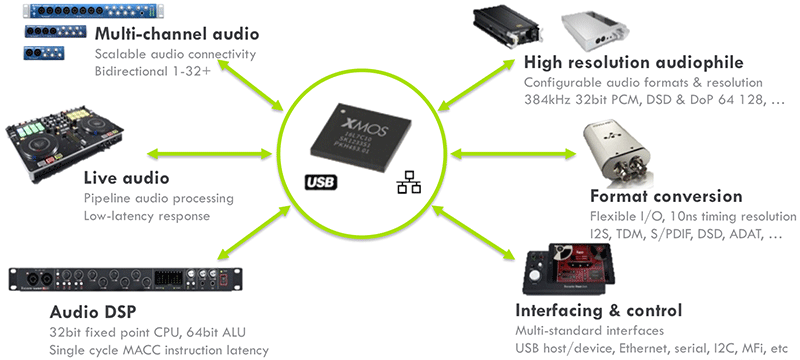 MULTI-STANDARD, MULTI-CHANNEL AUDIO CONNECTIVITY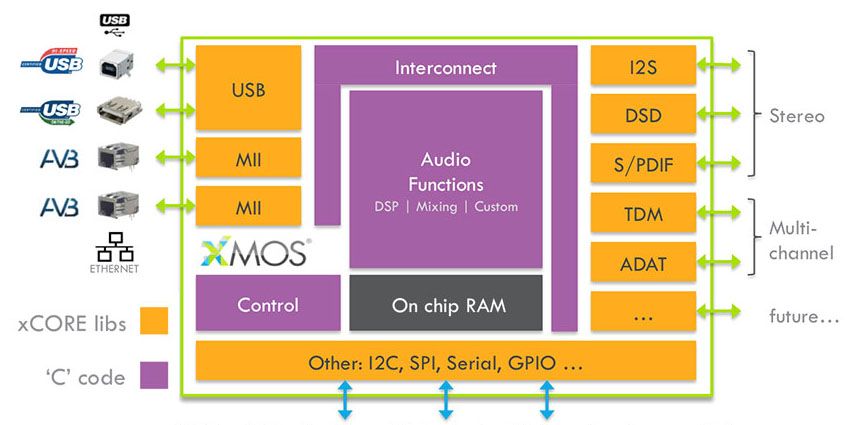 Powerful programmable silicon
xCORE multicore microcontrollers
4-32 logical cores, 400-4000MIPS
32bit fixed point data path single cycle 64bit MACC
Flexible Hardware Response™ I/O 10ns response time
Optional integrated USB 2.0 PHY
Scalable software components
Scalable channel count: 1-32+
Scalable audio resolutions and formats PCM 384kHz, DSD128, DoP
Flexible audio interfacing I2C, TDM, S/PDIF, DSD, ADAT
Royalty free software provided as C/C++ source code
Reference applications
USB Audio Class 2.0
Ethernet AVB Audio