WORK AT XMOS
Current Vacancies

Apply Acoustic Test Automation Engineer: Bristol, UK

Summary

XMOS is a leading supplier of embedded multicore microcontrollers. The combination of our unique silicon architecture and highly differentiated software offering positions us at the crossover between voice processing, biometrics and artificial intelligence.

XMOS is looking for an Acoustic Test Automation Engineer to complement the Firmware and Algorithms Teams developing next generation voice control products.

This position would suit a test automation engineer looking to have a significant impact in a growing technology business. Candidates with a strong interest in either acoustics or test automation will be given consideration.

Key Responsibilities

Collaborate with product development teams in Bristol, UK and Hampton, New Hampshire, USA offices
Define and develop automated test environments, test setups, and test cases
Perform acoustic device testing, data analysis, write reports, and present results
Assist with root cause analysis of failures
Ensure XMOS audio products are of the highest quality and are delivered on schedule

Qualifications

Candidates will ideally have a degree in a relevant engineering discipline (Computer Science, Electronics, Physics, Acoustics, etc.). Candidates with relevant equivalent experience are encouraged to apply.

Essential Skills

Passionate about quality and software testing
Experience developing test automation software
Development experience in Python and other scripting tools
Strong organizational skills and heavy attention to detail

Desirable Skills

Knowledge of audio equipment and data formats
Experience with acoustic device characterization and testing
Experience working with Continuous Integration tools like Jenkins
Database experience

Apply Embedded Software Engineer: Hampton, NH, USA

XMOS is a leading supplier of voice-enabled solutions to the consumer electronics market. The combination of our unique silicon architecture and highly differentiated software offering positions us at the crossover between voice processing, biometrics and artificial intelligence.

Privately-held and well-funded, the business stands at the threshold of explosive growth over the next 24-36 months. In support of this growth, XMOS is looking for a talented engineer to join the Hampton, NH based Firmware and Algorithms Team, developing next generation voice control products.

Key Responsibilities

Develop high quality embedded software on XMOS technology
Create effective automated test suites
Write internal and external design and user documentation

Qualifications

Bachelor's Degree in Electrical Engineering, Computer Engineering, Computer Science or other relevant technical discipline

Essential Skills

Strong C programming skills
Experience with multi-core processor architectures and RTOS
Ability to comprehend and translate complex mathematical algorithms to an embedded microprocessor
Familiarity with standard hardware protocols (SPI, I2C, I2S, UART, USB)
Able to comprehend hardware specs and schematics
Experience with software practices such as source control (git), testing, code review

Desirable Skills

Familiar with high level languages such as C++ and Python.
DSP or acoustic algorithm experience.

Apply Software Tools Team Lead: Bristol, UK

Summary

XMOS is a leading supplier of embedded multicore microcontrollers. The combination of our unique silicon architecture and highly differentiated software offering positions us at the crossover between voice processing, biometrics and artificial intelligence.

XMOS is looking for a talented and experienced software engineer to lead our Software Tools Team. Our development tools enable both XMOS and our customers to create products on our scalable, embedded, parallel, real-time xCORE architecture.

This position would suit an experienced software engineer looking to have a significant impact in a growing technology business. Candidates will ideally have both leadership skills and a strong background in embedded tools development.

Key Responsibilities

As the Tools Team Lead you will be responsible for your team:

assigning work and reporting progress to senior management;
mentoring junior engineers;

You will also be responsible for the tools themselves:

consulting with all stakeholders;
defining the roadmap for the development tools;
setting the release schedule.

And you will make significant contributions to maintenance and development:

resolving issues in the tools;
developing new features as appropriate.

Qualifications

BSc, MSc or above in Computer Science or related degree (at least a 2:1 from a top tier university)

Essential Skills and Competencies

Skilled team leadership
Experienced C/C++ programmer
Ability to effectively architect software tools
Desire to promote best practice in software development
Strong code organisation and planning
Excellent problem solving
Ability to learn quickly and adapt to new challenges
English language proficiency

Desirable Skills and Competencies

Experience of real-time and multi-core processor architectures
Understanding of embedded toolchains
Understanding of Continuous Integration systems
Git proficiency
Familiarity with Test Driven Development and Agile development




If there are other roles you are interested in at XMOS, please send your CV to us with a short covering letter explaining how you can help us deliver great voice interface solutions.
Recruitment agencies: XMOS does not accept agency resumes. Please do not forward resumes to our jobs alias or XMOS employees. XMOS is not responsible for any fees related to unsolicited resumes.
All applicants for positions based in the UK must have the right to live and work in the UK and be able to provide the necessary documentation to prove this.
Help us change the way people interact with the electronics that surround them day and night.
At XMOS we're developing technology and solutions that will change how people interact with their homes, cars and work environments. We're developing interfaces that allow people to control electronic devices in the most natural way possible - VOICE. Working for XMOS is richly rewarding, we love it, come and join us.
Workplace culture is the most critical aspect of a company; no-one wants to work at a company that's not supportive or where you never have the opportunity to achieve your potential. At XMOS we recognise that everyone is unique and works differently. We encourage people to bring their personality to work because innovation comes from everyone expressing themselves and contributing. We practice a set of shared values that allow everyone to excel individually and as part of the team.
---
We're all in this together
Build teamwork, trust and respect
---
Deliver a quality customer experience
Both internal and external
---
Adding value through innovation
Developing world class products
---
Own it. Mean it. Do it.
Commit, take responsibility, be accountable
---
Take pride. Be humble.
Nobody knows everything
---
Have fun, make money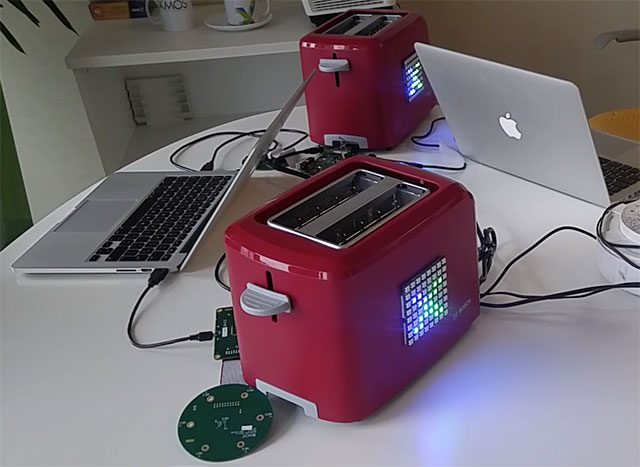 XMOS is an engineering company that strives to learn and apply best practice, as well as innovating and having fun.
Our engineering team includes engineers and developers who work together to deliver world-class products.
---
Responsible for a wide range of software deliverables
From high-level GUIs and web pages down to bare-metal parallel programming.
---
Use the most appropriate language for the task
Includes Python, C++, Java, XC, C, Assembler
---
Practice an agile development approach
Open environment where people actively collaborate, bounce ideas off others and share knowledge
---
Continuous feedback path with sales team and customers
Develop and deliver features of importance and value.
---
Continuous Integration (CI) with automated regression tests
Continuous verification of software and libraries on xCORE hardware