xCORE GENERAL PURPOSE (L-SERIES)
XS1-L: GENERAL PURPOSE MULTICORE MICROCONTROLLERS
xCORE-General Purpose devices are a perfect fit for a broad range of applications, from simple stepper-motor control to highly-integrated real-time systems and automotive applications.
Devices are available with 4, 6, 8, 10, 12 and 16 logical cores, and processing power of 400 to 1000MIPS. The entire L-Series is organized into two pin-compatible groups, allowing you to build multiple end-product variants using a single hardware platform, and to performance-enhance or cost-optimize designs as requirements evolve.
Features
Multicore compute with devices ranging from 4 to 16 cores, and 400 to 1000 MIPS
Flexibility to implement your exact mix of peripherals
Low latency with 100x faster real-world I/O response
Timing determinism to ensure you never miss deadlines
DSP integration using our native 32b/64b instructions
Security from our secure OTP to protect your IP investment
Commercial, industrial and automotive qualified devices
Easy to use with our free xTIMEcomposer tools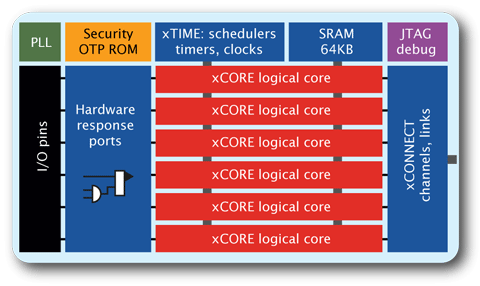 Documentation
Devices
xCORE general purpose devices are available in a range of resource densities, package, performance and temperature grades depending on your needs.