xCORE-200 XL Multicore Microcontrollers | XMOS
The xCORE-200 General Purpose family of devices extends the popular xCORE architecture to provide increased performance, memory footprint and flexibility for the most demanding applications.
xCORE-200 XL/XLF implements a dual-issue processor pipeline to boost peak compute performance to 2000MIPS and 1000MMACS. Up to 512KB on-chip SRAM memory is available. Each member of the xCORE-200 family has an embedded flash option for applications where additional security is required.
Features
Devices ranging from 8 to 16 cores
Multicore compute between 1000MIPS (8 core) and 2000MIPS (16 cores)
Flexible, high performance configurable I/O capability
Up to 512KB on-board memory for demanding applications
Embedded QuadSPI flash options - up to 2048KB on-board
DSP integration using our native 32b/64b instructions
Free software library support to implement your exact mix of peripherals
Easy to use with our free xSOFTip Explorer and xTIMEcomposer Studio tools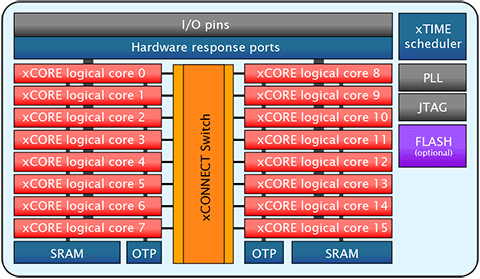 Documentation
Devices
xCORE-200 general purpose devices are available in a range of resource densities, package, performance and temperature grades depending on your needs.
table may scroll horizontally