XMOS high-performance digital signal processing solutions help you build a voice interface quickly into your products. Our mono-AEC voice processor gives you up-close voice capture and processing accuracy at far-field range – even in noisy environments.
We offer two development kits: our our linear array is ideal if you want to integrate a voice interface into kitchen appliances and smart-panels, including smart lighting, heating and security solutions. Our circular array has a 360 degree voice capture field – ideal if you're developing 'centre of room' products, such as a table-top smart speaker.
Our rich optimisation parameters for the XVF3100 voice processor lets you adjust for noise attenuation, gain control and residual echo so you can tailor the best voice capture performance for your product. And our engineers are on hand to help you move rapidly from prototype to tuning, and from testing to volume production with a world-class product.
Development Kit – linear array
XK-VF3100-L33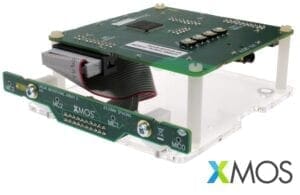 VocalFusion 4-mic mono-AEC development kit – linear array

XVF3100 processor board

Micro-USB connector for power (optional USB2.0 device connectivity)
Low jitter, audio quality clock
DAC with integrated headphone amplifier
4 configurable user input buttons
13 user-controlled LEDs
xTAG interface for JTAG debug

XVF3100 voice processor (programmable for far-field voice capture)

Wake-word engine by Sensory
Full duplex Acoustic Echo Cancellation (AEC)
Barge-in
4-microphone adaptive beamformer
Dereverberation
Noise suppression
Automatic Gain Control (AGC)
Direction of arrival (DOA) indication

Microphone Array

Linear, 100mm long
4 x Infineon IM69D130 PDM (Pulse Density Modulation) MEMS microphones
33mm inter-mic spacing

Connectivity

Inter-Integrated Sound (I2S) audio interfaces
Inter-Integrated Circuit (I2C) serial control interface
High speed USB2.0 compliant
Multi-channel USB audio class 1.0
128-pin TQFP package 0.4 pitch

To get started with the development kit, you'll also need:

Laptop or PC with some stereo music content and 2 free USB ports
Internet connection
Powered loudspeaker
Development Kit – circular array
XK-VF3100-C43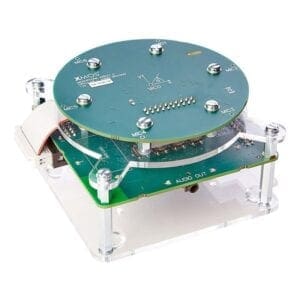 VocalFusion 4-mic mono-AEC circular development kit – circular array.

XVF3100 processor board

Micro-USB connector for power (optional USB2.0 device connectivity)
Low jitter, audio quality clock
DAC with integrated headphone amplifier
4 configurable user input buttons
13 user-controlled LEDs
xTAG interface for JTAG debug

XVF3100 voice processor (programmable for far-field voice capture)

Wake-word engine by Sensory
Full duplex Acoustic Echo Cancellation (AEC)
Barge-in
4-microphone adaptive beamformer
Dereverberation
Noise suppression
Automatic Gain Control (AGC)
Direction of arrival (DOA) indication

Microphone array

Circular, 90mm diameter
4 x Infineon IM69D130 PDM (Pulse Density Modulation) MEMS microphones
43mm radius microphone spacing

Connectivity

Inter-Integrated Sound (I2S) audio interfaces
Inter-Integrated Circuit (I2C) serial control interface
High speed USB2.0 compliant
Multi-channel USB audio class 1.0
128-pin TQFP package 0.4 pitch
Silicon
XK-VF3100-TQ128-C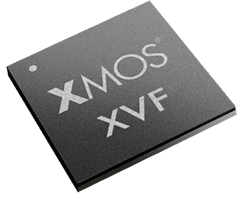 XVF3100 voice processor (programmable for far-field voice capture)

Wake-word engine by Sensory
Full duplex Acoustic Echo Cancellation (AEC)
Barge-in
4-microphone adaptive beamformer
Dereverberation
Noise suppression
Automatic Gain Control (AGC)
Direction of arrival (DOA) indication