VocalFusion – Voice Interfaces | xCORE-VOICE Controllers
xCORE VocalFusion™ SPEAKER
---
direct interface to microphone array with flexible backhaul
based on xCORE XVF3000 voice processor
voice DSP including beamformer, full duplex AEC and barge-in
Providing direct interfacing to four PDM (Pulse Density Modulation) microphones in either linear or circular arrays with a choice of USB or I2S interfaces to connect to application or host processors, VocalFusion Speaker provides the high performance far-field microphone solution for voice-activated speaker applications.
Based on the XVF3000 device voice sources are isolated from unwanted noise with the integration of advance DSP techniques including beamforming, echo cancellation and noise suppression. Optional keyword trigger detection delivered by Sensory TrulyHandsfree™ technology enables users to activate devices simply by speaking instead of having to physically touch the device.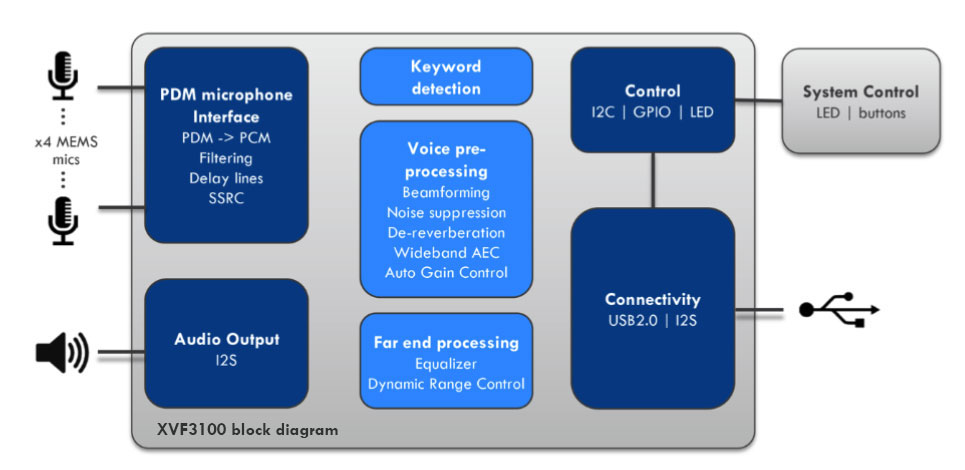 xCORE VOCAL FUSION SPEAKER EVALUATION KIT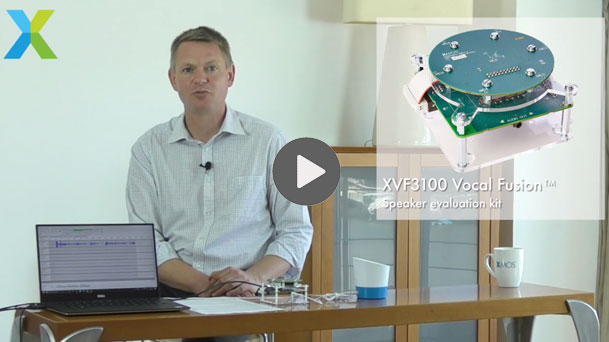 Laurence Strong, XMOS, explains the key features of the XVF300 device and xCORE VocalFusion Speaker Kit.
VOCALFUSION™ SPEAKER GENERAL FEATURES
xCORE-VOICE XVF3100

High performance microphone array for voice interfaces

Integrated microphone and voice DSP including full duplex AEC, noise cancellation, dereverberation, AGC

Microphone interface

Direct interfacing to 4 PDM microphones
Support for linear or circular arrays
16kHz sample rate

Audio output

I2S output to DAC, 16kHz or 48kHz PCM

Host processor interface options

High speed USB2.0 compliant device
Optional I2S interface, with I2C for control

Sensory TrulyHandsfree™ technology evaluation license

Custom triggers and multi-language support available from Sensory
---
REQUEST FURTHER INFORMATION
XMOS has a wide range of solutions for far-field voice capture. If you would like further information on products like XVF3000 and VocalFusion Speaker please use the online form to send us some brief details about your company and project.
REQUEST FURTHER INFORMATION
REGISTER FOR BETA PROGRAM
XMOS is running a private beta program for XVF and VocalFusion Speaker with selected customers and partners. If you would like to participate in the next phase of the beta program please complete the online request for access form.
REGISTER FOR BETA PROGRAM