xCORE-VOICE Smart Microphone Kits | XMOS
xCORE SMART MICROPHONE KIT
---
Digital MEMS microphone array with USB 2.0 backhaul
Optimum far-field, beam-forming array microphone
Microphone and voice DSP
XMOS provides a range of xCORE smart microphone solutions for developers who want to integrate voice interfaces into their embedded products.
The xCORE USB Smart Microphone, based on the XVSM-2000 voice processor, provides high quality far-field audio capture from PDM microphones with USB (optionally TDM) backhaul. With advanced DSP capabilities, the xCORE Smart Microphone and XVSM-2000 device ensure that voice sources can be delivered with the highest possible quality, and provide the fastest way to integrate voice capture interfaces into smart designs at an affordable price.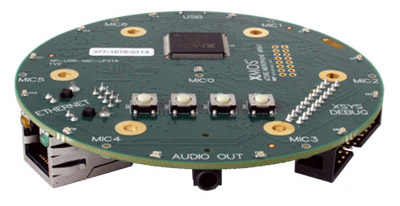 DOWNLOAD xCORE SMART MICROPHONE PRODUCT BRIEF
xCORE SMART MICROPHONE FEATURES
MICROPHONE ARRAY BOARD FEATURES
Processor: xCORE-VOICE XVSM Processor
Connectivity:

USB Audio Class 2.0 compliant device

Backwards compatible to UAC 1.0

Optional 10/100Mbps Ethernet

Voice capture: x7 PDM MEMS microphones (AKU441)
Audio out: 3.5mm headphone jack
User interface: 4 buttons and 13 LEDs
Expansion header
xSYS connector for JTAG debug
ARRAY MICROPHONE INTERFACE LIBRARY
PDM to PCM format conversion
Up to 100dB dynamic range
Microphone gain compensation
XVSM SUPPORT LIBRARY
Beamforming with configurable beam width and non-stationary noise suppression (up to 20dB attenuation)
Echo cancellation (up to 80dB att.)
Stationary noise suppression (up to 20dB att.)
De-reverb (up to 20dB att.)
Output sample rate 16kHz
WHICH BOARD DO YOU NEED?