Voice Interfaces | xCORE Array Microphones
ARRAY MICROPHONES
---
far-field voice capture
sound analysis
actuator control
XMOS array microphone solutions use the high performance multichannel capabilities of xCORE devices to aggregate PCM streams from large numbers of MEMS microphones to USB and TDM interfaces. The flexibility of xCORE means that independent streams of voice samples from arrays of PDM or I2S microphones can be easily backhauled to application processors, DSPs and PCs, in a single device.
Why XMOS?
Interfaces to large arrays of MEMS microphones - PDM or I2S
High quality format conversion, decimation and sample rate conversion
Independent streams of voice samples from microphone array
Standard backhaul - USB or TDM
Additional GPIO for local HMI appliance controls
Cost reduction - microphone and backhaul interfaces in a single device
Customer adds own DSP to create differentiated product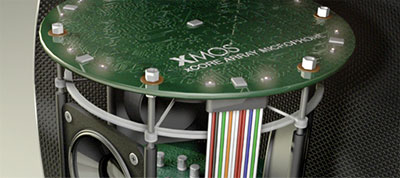 Discover the real-time DSP capabilities of the xCORE-200 platform in the context of voice interfaces. Download our Real-Time Digital Signal Processing whitepaper.
DOWNLOAD REAL-TIME DSP on xCORE-200
ARRAY MICROPHONE EXAMPLE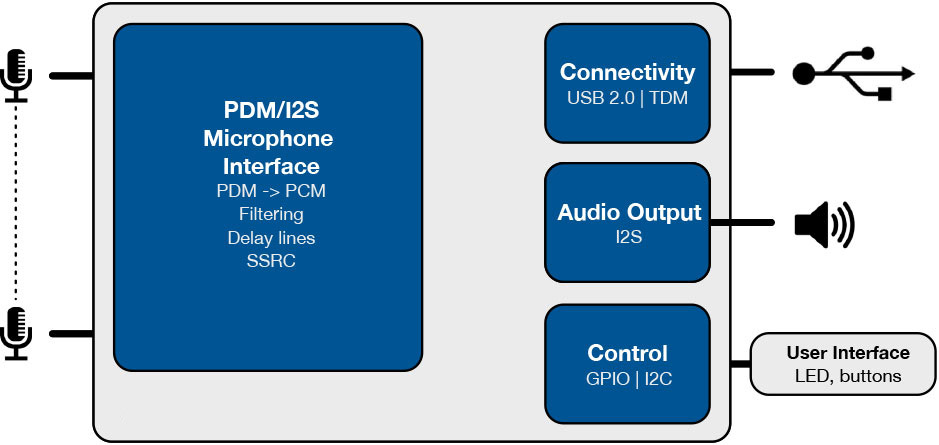 ARRAY MICROPHONE DEVELOPMENT BOARDS
The xCORE Array Microphone kit offers a scalable and flexible hardware and software solution for high performance, low cost multi-channel USB microphone aggregators and array microphones. Built around the xCORE-200 series of multicore microcontrollers, it provides direct interfacing to seven PDM (Pulse Density Modulation) microphones and a high speed USB2.0 device.
The microphone interface library is highly configurable and enables designers to customize the functionality of the system to meet their specific requirements.
LEARN MORE ABOUT THE xCORE ARRAY MICROPHONE PLATFORM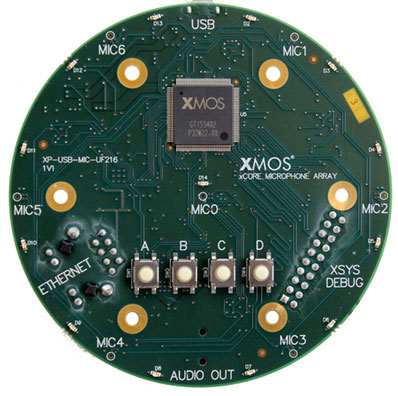 ARRAY MICROPHONE APPLICATIONS
FAR FIELD VOICE CAPTURE
Smart TV
Smart speakers
Personal robots
Voice Digital Assistants
Conference microphones
Games consoles
SOUND ANALYSIS
Home security
Acoustic cameras
Condition monitoring
ACTUATOR CONTROL
Telepresence
Robotics
Video conferencing