Networked Audio & Ethernet AVB | XMOS
NETWORKED AUDIO
---
Ethernet AVB
time sensitive networks
Business benefits are driving the increasing move to Ethernet-based network audio. Networked audio installations appear in many applications from public address systems and live broadcasting to the automotive and commercial worlds. All these sectors demand the high-fidelity, low latency, robust delivery which can be achieved with xCORE
There are many open and proprietary network audio standards. Each brings their own benefit but with no clear leader, the decision of which to adopt can be difficult. And then you have to integrate your chosen networked audio standard together with your product specific features.
xCORE solutions are agnostic enabling you to support your chosen standard today whilst future proofing for tomorrow. xCORE solutions provide deterministic multicore performance, ensuring each product feature performs as you need it to. The result is a high performance, competitive and differentiated networked audio product.
ETHERNET AVB and AVnu
The AVB standard was developed under the guidance of the AVnu Alliance.

The XMOS Ethernet AVB solution was the first AVnu-certified Audio Video Bridging (AVB) audio endpoint. It provides a fast time-to-market with a proven, flexible, scalable networked audio connectivity solution.
NOTE: The AVB Audio Endpoint software has been integrated into the Time Sensitive Network library.
ETHERNET AVB LIBRARIES & COMPONENTS
XMOS provides a wide range of software components and libraries that implement the different standards required for Ethernet AVB.
| | |
| --- | --- |
| Standard | Function in AVB Audio systems |
| IEEE1722.1 | Discovery, connection management & control |
| IEEE P1722 | Encapsulation protocol |
| IEC 61883-6 | Audio format for P1722 |
| 802.1Qat | Stream reservation protocol |
| 802.1Qav | Flow control |
| 802.1as | Timing synchronization |
| IEEE 1722.MAAP | MAC Address Acquisition Protocol |
| 802.1 | Ethernet MAC 100Mbit |
Additional components available from XMOS include: I2S, TDM, S/PDIF, ADAT; DSP; I2C, SPI, serial and other GPIO.
GETTING STARTED WITH ETHERNET AVB
Andy Lucas, XMOS, explains the principles and standards behind Ethernet AVB networks.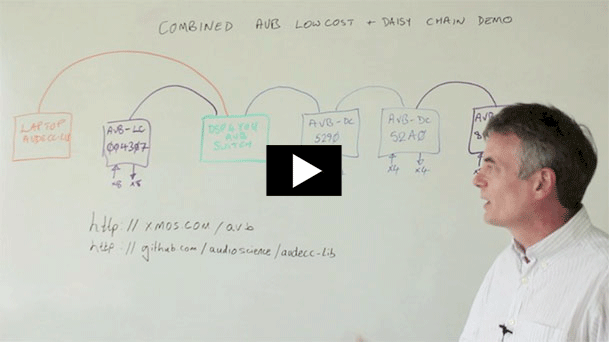 John Edwards, XMOS, shows how to set up a flexible AVB network with different configurations,
using the AudioScience AVDECC library and XMOS development kits.
Application Notes