DRIVERS
UMAN GmbH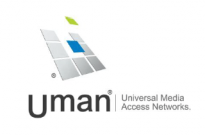 The UMAN Universal Media Access Networks GmbH is the software think tank responsible for the development of the UNOS (Universal Network Operating System). UMAN sees its role as that of a strategic partner for innovative technological enterprises. With its UNOS products and through the provision of development services, UMAN offers its clients solutions for the simple and risk-free implementation of network technologies.
UMAN GmbH was founded in 2007 and is based in Dusseldorf, Germany. The development team comprises engineers and scientists based in Cape Town, South Africa.
Skills and Services
Development, adaption and licensing of UNOS the universal netOS with native AVB support
Command & Control for AVB and non-AVB systems
Turnkey solutions
Development of embedded software (networking, general embedded and A/V systems)
Development of hardware (audio DSP, video compression, networking, AVB, general A/V)
Thesycon

Thesycon System Software & Consulting GmbH is a privately held company founded in 1998. Thesycon is based in Ilmenau, Germany. Thesycon provides high-quality software solutions which are used by customers worldwide in many branches of industry, such as professional audio, medical, measurement/sensors, automotive.
Thesycon's engineers have many years experience with device driver development, embedded software development and USB technology.
Skills and Services
Device drivers for Windows, Windows CE/Mobile
Embedded software components for USB and other technologies
Thesycon offers USB standard software components and class drivers for licensing. Thesycon also offers custom development, and consulting services around USB.
CEntrance

Since the year 2000, CEntrance has helped audio companies bring innovative products to market in record time. Our corporate clients keep coming back because we invest in long term relationships. There is no substitute for the simplicity and cost effectiveness of outsourcing to a professional design firm, which understands Your customer and Your business. CEntrance focuses on computer connectivity and offers a portfolio of designs for licensing. We also welcome custom design engagements in hardware, firmware and specifically driver design.
CEntrance is headquartered in North America.
Skills and Services
Mac, Windows and Linux drivers
Hardware design
Firmware design
Industrial and mechanical design
Outsourced manufacturing
ByteSnap

ByteSnap Design is one of the UK's leading embedded electronics consultancies. Electronics are best designed by a team with deep technical understanding of software and hardware engineering - ByteSnap are award-winning experts at both. Markets covered include: IoT, Home Automation, Energy, Broadcast, Logistics, Industrial and Medical.
We consistently deliver high quality design against tight timescales, due to our wealth of product design experience.
ISO 9001 certified, ByteSnap provides deep technical expertise and support throughout the product life cycle.
Skills and Services
Driver Development
Firmware Design
XMOS firmware development, including implementation of smart mic array
Embedded Linux
Android OS Porting
Application Development
WinCE
Electronics Design
PCB Design
M2M / RFID / FPGA / BSP
ZigBee / LoRa / Wi-Fi / BLE / GSM
iMX Processor Board Design
Analogue
Prototyping
EMC Pre-qualification Testing