ETHERNET AVB
XMOS for AVB real-time networking
XMOS multicore microcontrollers are ideally suited to real-time audio networks due to the ability to break down each of the inputs/outputs into separate tasks that behave in a completely predictable way. Individual logical cores are used to manage talker inputs and listener output, all managed by a global clock. Input data is timestamped and output on request by the deterministic architecture that is driven by events instead of interrupted tasks, providing jitter-free data transport between switches.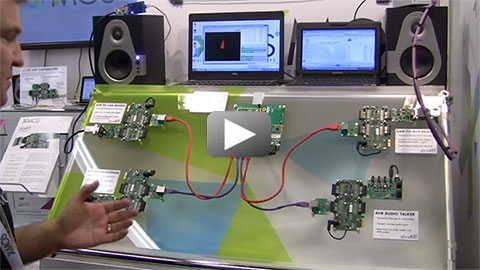 The configurability of XMOS devices means that the audio endpoint solutions are not I2S specific, the multicore microcontrollers can be reconfigured to support different interfaces such as CAN and S/PDIF making the network extremely flexible.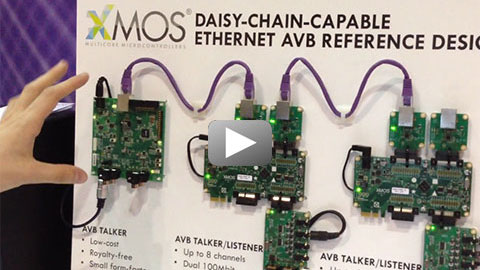 XMOS recently added daisy-chaining capabilities to its AVB product range. This video shows a short demonstration, based on our sliceKIT development hardware.
Low cost AVB platform
Royalty free Ethernet AVB
Intregates DSP and interfacing
No O/S or external RAM required
Zero development tools cost
Unmatched flexibility
Scalable from 2-32 channels
Talker/Listener or both
Star or daisy-chain network topology
IEEE 1722.1 control
Integrate DSP and house-keeping functions
Fastest time-to-market AVB solution
Field and AVnu plugfest proven
Easiest to use AVB endpoint solution
Simple customisation using configurable xSOFTip blocks
Field upgradeable
What our customers say?
"We selected XMOS because the company's multicore microcontroller was easy to use and their complete AVB reference design enabled us to get our product to market much faster than using our previous microcontroller designs. The XMOS architecture will give us a competitive edge in cost and overall product flexibility."
Hunter Technology
---
What is Ethernet AVB?
Media distribution has progressed a long way from point-to-point analog AV implementations with masses of bulky, expensive copper wiring, which required extensive knowledge to design and implement. Today's digital media networks are based on mass market items such as Cat 5 cables, switches and standard hardware components. They need to be easy to configure, take inputs from many different digital sources and output to a variety of listening hardware, all in real-time and with better quality.
Real-time digital media networks based on the Audio Video Bridging (AVB) IEEE 802.1 standard provide the highest quality streaming AV experience, and bring major benefits to professional/automotive AV and consumer electronics.
Ethernet AVB delivers:
No compromise AV over mixed-use Ethernet, including:
- Sub microsecond time synchronization
- Precise presentation times
Guaranteed priority for AV traffic with:
- Stream reservation
- Zero data loss
Low latency with <2ms packet delivery for class A traffic

The AVB standard has been developed under guidance of the AVnu Alliance (www.avnu.org), which includes the world's leading AV equipment manufacturers.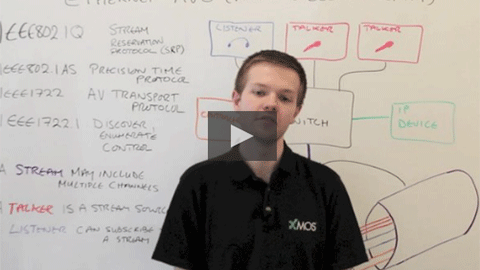 ---
Flexible AVB Solutions
The flexibility of the XMOS multicore microcontrollers make it quick and easy to configure AVB applications for many requirements.
XMOS Multi-channel Ethernet AVB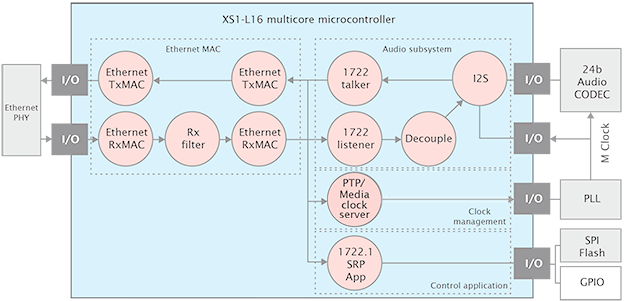 Software subsystems
- 100Mbps Ethernet MAC
- Precise Timing Protocol
- Media clock recovery
- Audio streaming components, optional DSP
- Control application
Capability
- Multichannel audio (8+)
- Simultaneous talk / listen
- Control via 1722.1
Typical Application
- Multichannel recording interfaces
- Digital audio interfaces
- Mixing desks
- Audio digital signal processing systems
---
XMOS Daisy-chained Ethernet AVB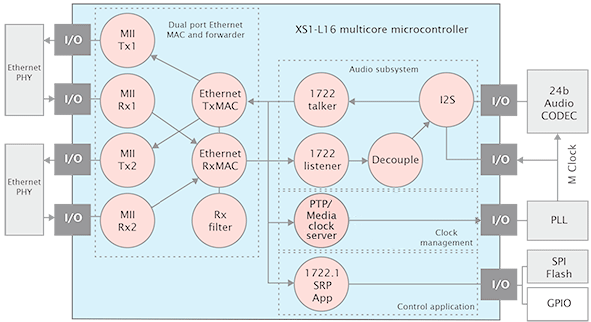 Software subsystems
- Dual 100Mbps Eth MAC
- Precise Timing Protocol
- Media clock recovery
- Audio streaming components
- Control application
Capability
- Simultaneous 4-Ch talker/4-Ch listener
- 6 level daisy chaining
- MII slave mode option
Typical Application
- Intercom systems
- Public address systems
- Paging systems
- Line array speakers
- Studio monitors
XMOS Reference Software
The XMOS AVB software reference design includes a collection of configurable xSOFTip blocks that implement the different standards used by the AVB.
| | |
| --- | --- |
| xSOFTip Standard | Function in AVB Audio systems |
| IEEE1722.1 | Discovery, connection management & control |
| IEEE P1722 | Encapsulation protocol |
| IEC 61883-6 | Audio format for P1722 |
| 802.1Qat | Stream reservation protocol |
| 802.1Qav | Flow control |
| 802.1as | Timing synchronization |
| IEEE 1722.MAAP | MAC Address Acquisition Protocol |
| 802.1 | Ethernet MAC 100Mbit |