MOTOR CONTROL
The xCORE processor family is ideally suited for precise real-time control of all types of motors. Our ability to execute multiple fast control loops and generate precise PWM of your specification with 4ns resolution. The deterministic behavior of the processor core coupled with the rich set of xSOFTip functions allows rapid development of your motor control applications.
For applications requiring a high degree of integration, we can support a wide variety of communications standards including time-stamped Ethernet and CAN. xSOFTip modules for HMI functions complete your design.
The high performance xCORE architecture enables the construction of complex multi-axis motor control applications quickly, reducing your time to market.
Example application: motor control
XMOS simplifies the development of motor controllers and drives for simple DC brushed and stepper motor through to high end PMSM and SRM motors. Our xCORE devices provide the performance and flexibility of FPGAs with a MCU-style development cycle. Design cycles for design description, compilation, simulation, and timing closure are measured in minutes instead of hours. xCORE resources can be assigned to increase the number of axes, increase control loop speed and complexity, or add communication interfaces, without affecting the functionality already present.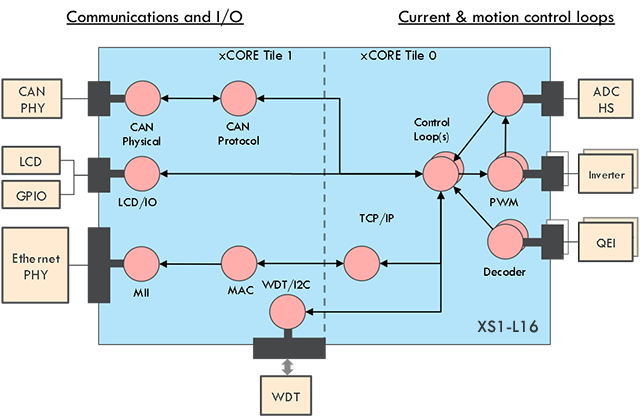 Motor Control Example Core Diagram